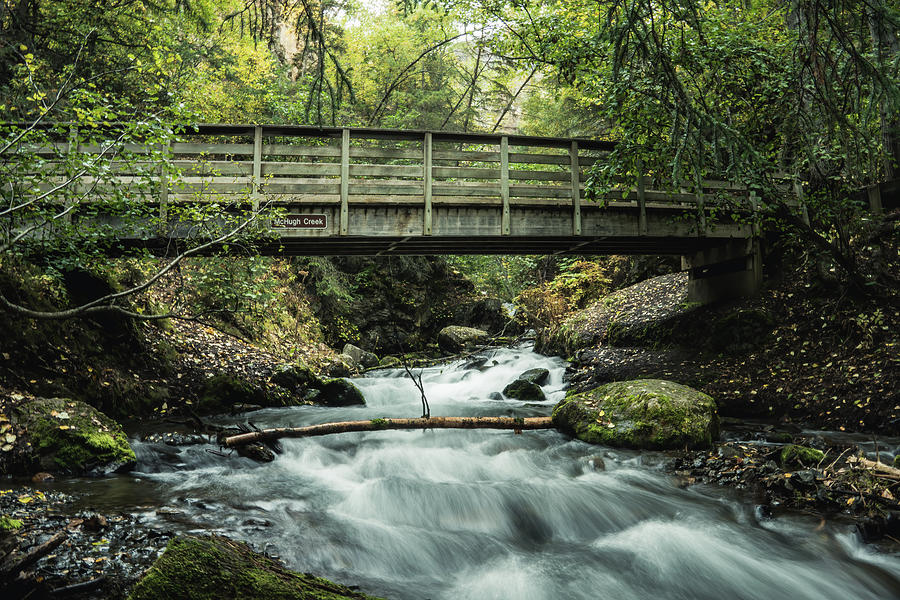 Today was a great day out! I decided to go out and get some exercise and looked for trails in the area to explore. I found the McHugh Creek Trail on the map and recognized it right away as an area I've been wanting to explore for quite some time. We pass it each time we head from the Anchorage area to Seward and it looked beautiful, so I just wanted to take it in. I am sure glad I did!
The trail starts out just off the parking lot, of which there are two levels. I parked on the top level right near the trailhead and finished up at the lower parking lot, taking in the falls and small pond of water at the end of the creek. Shortly after beginning the trek, I encountered the beautiful bridge across the creek. This gave me an opportunity to practice with flowing water. I love how just the slightest delay in the shutter speed can give you the effect of soft, feathery water. I think, in most cases with flowing water, it looks so much better than a still shot of water. How about you? Which do you prefer?
The trail follows along the creek for quite a distance. The trees, the sound of the water, and the smell of nature all made for an incredibly relaxing day. At one point, I tried to make my way back toward the lake, following the signs, but the brush started to thicken up a bit and I did not want to surprise or be surprised by a bear. So, I decided to turn back and get back on the main trail. If you ever find yourself in the Anchorage area, this trail is worth a visit!